First up - my Made to Measure quilt. This one was on the back burner for a little while until I faced up to doing all those HSTs for the big 8th border. I finally got on with it a few weeks ago. Here's what the layout is looking like - ignore the quilt top full of creases please!
Once I had them laid out, I pieced those flying geese strips pretty quickly actually. I'm really happy with how they look - I used 4 different low volume prints as the background, and it worked exactly as I hoped.
Now I just need to do the star blocks for the corners (more procrastination here, avoiding those teeny tiny HSTs for the little stars) and then one more border for which I have a Road 15 text print, and I'm actually done with the quilt top. This is another mammoth 80" x 80" quilt, so I'll try the table basting method again on this one and I've decided that I'm going to hand quilt this which has me excited and terrified in equal measure, and means it probably won't be done before next summer.
Speaking of mammoth quilts, Swoon is almost done. I sewed the binding on the front last night and plan to spend the next couple of evenings curled up on the sofa, handfinishing it on the back. Apart from the piecing, handstitching the binding to finish is my absolute favourite part of making a quilt.
I see a lot of hand stitching in my future in the next couple of weeks. I'm having keyhole surgery for gallstones on Friday so I have lots of time to fill in the next couple of weeks recovering. I've been working on Aneela Hoey's Cherry on the Tree Swing embroidery pattern for the last couple of weeks, picking it up here and there in the evenings, and its not perfect but its coming along nicely. This hoop is for baby Rachel's room, along with a few other things I am making for her.
Beside Cherry on the Tree Swing, I also bought some lovely embroidery patterns from
Lilipopo
, including this
gorgeous Carol Singers one
which I'm planning to start next week.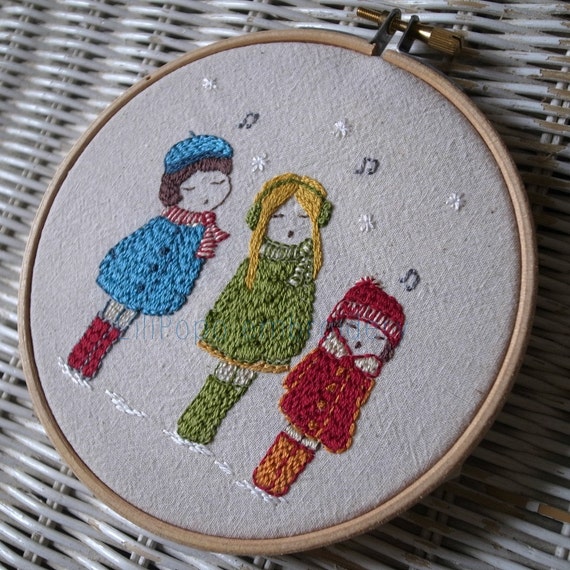 Image by Lili Popo
So that's my WIP Wednesday. Linking up to Freshly Pieced with lots of very talented ladies, and looking forward to seeing what everyone else has been up to.