The Summer Dreams quilt is finished! Another summer sewing list item done :-)
This is a commissioned quilt for a Christening gift for a baby girl. It is based on my Sophie's Dreams quilt, using the same simple square pattern but with a slightly different selection of fabrics. I did stick with a similar colour palette though. I think for little girls the red and green combo is a good one. It avoids too much pink but is still girlie and pretty - but I did get some pink in there (of course!), especially some stronger pink values.
The backing is a pretty cream fabric with a small floral print with reds, pinks, and greens which I found in my local fabric shop. (They stock it in a number of colours and I love it, its a great backing/lining fabric). I appliqued the baby's name on the centre of the backing using raw edge applique - you can see the first few letters here. I like to make the letters a little wonky to match the wonky lines of the quilting.
Its quilted using the same wonky straight line method I used for the original Sophie's Dreams quilt, but I spaced the lines a little further apart this time. I do like the texture they give. This quilt fought me all the way when I was quilting it. I originally tried to do alternate straight & wavy lines but 5 lines in, it really wasn't working and I had to unpick all the rows :-( Even on the straight lines, nothing really flowed, I don't know why! Maybe because I took so long to baste it - it was on the floor for 3 nights because of my work schedule and I think that the fabric loosened out - the masking tape I used to hold the backing taut on the floor had come away in a few places but because I was almost done I didn't think much of it at the time, but I could feel it when it came to quilting.
All in all, I'm pretty happy with this one and I hope that it is well received by baby's mammy and J who ordered it.
Quilt Stats:Name:
Summer Dreams
Made For:
Commissioned quilt for J - a Christening gift for her niece M
Fabric:
A mix from my stash including Riley Blake's Rainy Days & Mondays and Bloom & Grow, Michael Miller Ta Dot, Ann Kelle Remix & Urban Zoologie, Alexander Henry Willow Wren. Momo's Freebird, Laurie Wisbrun's Tufted Tweets, Amy Schimler's On A Whim II (Owls & Cats) and lots more
Batting:
Warm & White
Size:
59" x 51" approx
Quilting:
Wonky straight lines
Pattern:
Simple 7.5" squares
I'm officially on my holidays now so I think that posting might be very sporadic for the next couple of weeks as I spend a little quality time with the kids :-) But I will be posting an update on my Summer Sewing project the first week of July so if you linked up in May, get your posts ready for the mid-term review!! I can't wait to see what you've gotten done from your lists :-) You can also join in at that point if you want! I also have a new button for it if you want to grab it.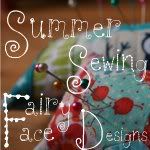 I'm also linking this up to Lily's Quilts Fresh Sewing Day - it's my fave make of June!