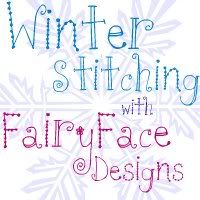 Are you ready? Made your list? Checked it twice? Do I hear a yes? Right so, let's press on!
By popular demand (you can't imagine how happy that phrase makes me!) I am setting up a new sewing list for you all to keep track of your winter sewing plans. I know we're in Autumn right now (or Fall, for my friends across the big pond) but its dark and dank and miserable and the evenings are just perfect for cosying up on the sofa in front of an open fire with some hand stitching, knitting or crochet. Or settling in at your sewing machine when the dinner is done and the kids are in bed, and getting stuck into some serious crafting.
I'm not a list-lover by nature, preferring to keep a lot of stuff in my head. But I did find that the utter satisfaction of looking back on what I'd done from my summer list was definitely worth the trouble of writing it in the first place. Sometimes, we're so focused on what we have to do, and what we haven't done, that we forget to celebrate all the fab things we have done. Here's where my Winter Stitching list comes in.
It's simple, really. Go, write your list. Now, be warned, like a new pet, this list is not just for Christmas.
It's for life
I jest! Its for the next 4 months or so. We'll be wrapping up in early spring. Lets say, mid March, when the evenings start to stretch out a bit and it feels like the cold and the rain and the need for central heating are finally starting to come to an end. (Spot the person who hates Irish weather). So, think, what do you want to get done by then? What's in your list? You don't need a magic ball - we'll do a mid-winter catch up just after Christmas for you to show off all your Christmas crafting success and add in new projects that might have come up, inspired by the New Year and maybe whatever Santa brings. But do try to think into January and February in your plans.
Feel free to go beyond sewing and quilting - I deliberately used the word stitching for this one because so many people like to pick up knitting or crochet needles in the winter. If there are other stitching crafts you love, get them on the list - so embroidery, cross stitch - whatever takes your fancy, include it all!
Then, grab the button at the top and post it on your blog. Write your Winter Stitching post (I'd love if you included the button in it too) and come back here and link it up in the Linky I'll be posting on Thursday. Then comes the fun - go visiting :-) Pop over to some of the other bloggers linking up and say hi. Discover some new bloggy friends and cheer on their progress. Sounds like fun? That's because it is! Get to it!